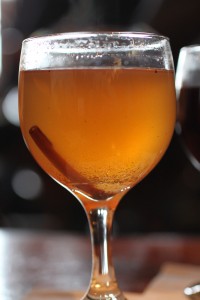 Start with some hors d'oeuvres by the fireplace as you watch your prime rib roasting to perfection on a device dating back to 1700.  Take a horse drawn sleigh/wagon ride through the back fields then chase the chill away with some nice, hot, mulled cider or wine.  Relax, help make apple pie using an antique apple peeler and corer, or make seafood chowder in an antique iron cauldron right in the fieldstone fireplace.
When it's time for dinner, we'll serve your fireplace seafood chowder and prime rib and then you'll be offered seconds! There will be bowls of fresh butternut squash, spinach pie and oven roasted potatoes.  Don't fill up on the homemade rolls, even though they are quite delicious, because you'll want to save some room for the scrumptious deep dish apple pie with fresh whipped cream.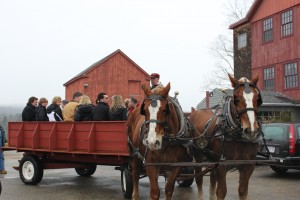 We'll toast to the New Year and then go downstairs to the Chestnut Room where a DJ will be playing so you can dance right through the midnight hour!  Wear a party hat and use those noisemakers!  It's a great way to ring in the New Year!
If prime rib doesn't tickle your fancy, salmon will be offered as well.  Just order it when you purchase your tickets.
---
Early American Fare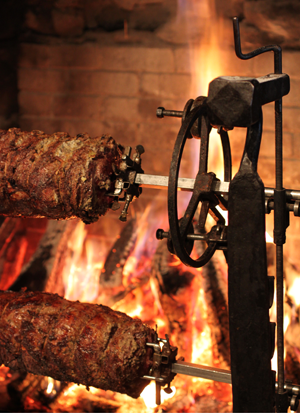 Savories
A selection of hors d'oeuvres, cheese and fruit accompanied by mulled wine or cider to whet your appetite as you watch your feast being prepared
Champagne Toast
Chowder of the Sea
Traditional New England Clam Chowder prepared in iron cauldrons over an open fire
1700 Fireplace Prime Rib
In 1480 Leonardo Di Vinci designed a Roasting Jack that would evenly cook large pieces of meat. Ours is a bit newer and the results are delicious.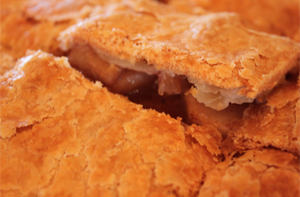 If Prime Rib doesn't fit your liking, we have Fresh Broiled Atlantic Salmon.
Dessert
New England's Best Apple Pie
---
DATE: December 31st, 2016
TICKET PRICES:
$80.00 per adult
(Includes all taxes and gratuities)
Schedule for the New Year's Eve Special Holiday Feast:
Arrive at 6:30pm
Feast begins at 8:00pm
There is a DJ for dancing and the countdown to the New Year. Party favors and newsmakers too!
Seating is limited, please call Salem Cross Inn or fill out form below to to get your tickets! ALL TICKETS ARE NON-REFUNDABLE AND NON-TRANSFERABLE

To attend the New Year's Eve Holiday Feast, order tickets online using the form below,
or call 508-867-2345.

RETURN TO TOP
---
Check out the special New Year's Eve package offered by these local area hotels: