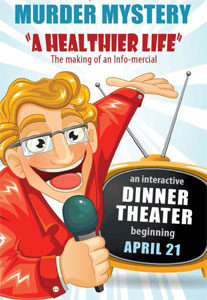 Salem Cross Inn and the Stageloft Repertory Theater present a Murder Mystery Dinner theater dining event, "A Healthier Life — The making of and Info-mercial." We need your help. Oppie Losefree needs you to cast a ballot as to which strategy should be chosen for the upcoming info-mercial about leading a healthier life. Meet some health experts as they battle for the spotlight in an upcoming television ad. Hopefully the battle won't result in a murder! But you never know with these health fanatics…
The Murder Mystery Dinner is an advanced ticket purchase dining event. To order tickets, please call Salem Cross Inn at 508-867-2345 or submit your order online using the form below.
Menu for the Murder Mystery Dinner
Tossed Garden Salad with Creamy Italian Dressing (served at 7:00pm)
Rustic Boneless Breast of Chicken – Supreme Sauce (served at 7:45pm)
Seasonal Potato and Vegetable
Homemade Rolls
Ice Cream Cakeballs with Homemade Hot Fudge
Brewed Tea or Coffee
---
2017 Dates,* Select Thursday and Friday Evenings
Arrive by 6:30pm. Show begins promptly at 7:00pm.
Click here to view the 2017 brochure and show dates.
*As dates become filled and sold out they will be removed from the schedule. Please check on the online order form date selector when you are ready to order, to make sure your date is available.
Cost of Tickets:
$56 per person (Tax and gratuity included. Tickets are non-refundable. Advance purchase only)
To attend our Murder Mystery Dinner, order tickets online using the form below,
or call us at 508-867-2345.

RETURN TO TOP
---
Check out these special Murder Mystery Packages offered by these local area hotels: