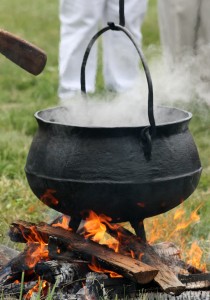 Join us at our dining event as we prepare a 1700's American trailside feast recalling the days of John Pynchon, the colonies' first cattle drover.  We hand rub prime ribs of beef with an age old recipe of spices and slowly roast it for hours over a huge fire pit.  Watch us make fritters and chowder of the sea in cast iron cauldrons over open fires.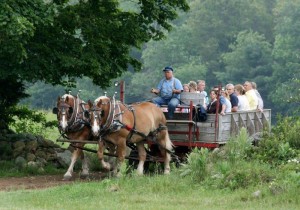 These are just the beginning of an endless feast (eight tables long!) including other seasonal entrées and a large variety of hot and cold vegetable dishes.  At our dining event, enjoy an assortment of delightful baked goods and fresh home baked shortcake or pies topped with real whipped cream. Enjoy horse drawn wagon rides, live entertainment, demonstrations by period crafts people and a Cow Puncher Drink.

Available Dates for Drover's Roast:
Held twice a year; always on Father's Day and the 2nd Sunday of September.
June 18, 2017 - Father's Day
September 10, 2017 - Sunday

Event dates will be removed when they are SOLD OUT.
Please check your dates when you are ordering.
Historic Drover's Roast Dining Event Schedule: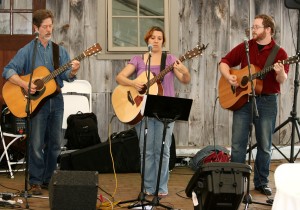 Festivities begin at 1:00pm.
Feasting begins at 2:30pm
Cost of Tickets:
$63.00 per adult
$25.00 per child (under 12 yrs. old)
(Tax and gratuities included) ALL TICKETS ARE NON-REFUNDABLE AND NON-TRANSFERABLE
To attend our Drovers Roast, use the form below to order tickets
or call 508-867-2345.
The Drover's Roast is an advanced ticket only event. Tickets are non-refundable.



Click here for our 2017 printable brochure.

---
Check out the special Drover's Roast Package offered by these local area hotels: