Join us for a special dining event as the Innkeepers at the Salem Cross Inn announce their series of 1700's style feasts, prepared on the open hearth of a great fieldstone fireplace. Relax by the fire or lend a hand as dinner is prepared for you in colonial style. Stir the chowder as it bubbles in our cast iron cauldron. See your prime rib, roasted 'to a turn,' as the only known authentic Roasting Jack still operating in America rotates slowly over a crackling fire of wild cherry logs. Beware the brimming bowl of freshly whipped cream – the perfect compliment to New England's best apple pie.
While your dinner is cooking to perfection, enjoy a horse drawn wagon or sleigh ride through the valley on the Inn's pristine 600 acres. Shake off the chill with warm mulled wine or cider upon your return. Browse our extensive collection of colonial and federal period American antiques. The Fireplace Feast makes a thoughtful and unique gift for special friends or deserving associates.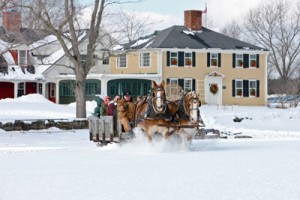 The Fireplace Feast is just one of our many dining events that provides an authentic colonial experience. At Salem Cross Inn, we capture the history and culture of 1700's America.  Salem Cross Inn's dining events, excellent cuisine, and atmosphere have been featured on Food Network's "The Best Of," WCVB TV5 Boston's "Chronicle" and chosen as the "Hidden Jewel" by Boston's Phantom Gourmet and WGBY.
Celebrate the new year with a Fireplace Feast. On New Year's Eve , Salem Cross Inn will be holding a special Fireplace Feast featuring hors d'oeuvres, a champagne toast, DJ for dancing and counting down to the new year, and other  goodies.
Fireplace Feast Dining Event Includes:
Delicious Early American Fare for your consumption… you can even enjoy seconds!
Pie making, mulling and chowder demonstrations
Horsedrawn wagon or sleigh ride, weather permitting
Casual dress is a must for this event
Click to view our 2016-2017 Fireplace Feast Brochure

---
Early American Fare
Savories
Salem Cross Inn's famous cheese spread and a glass of mulled wine or cider to help take the chill off after your horsedrawn wagon or sleigh ride (weather permitting).
Chowder of the Sea
Help prepare our traditional New England chowder in a cast iron cauldron over a crackling fire.
1700 Fireplace Prime Rib
Cooked to perfection using our c.17oo Roasting Jack
Fresh From The Oven
Homemade rolls and muffins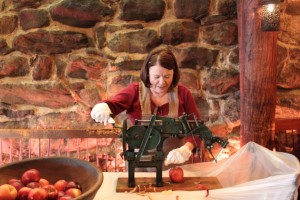 From The Keeping Cellar
Herbed roasted potatoes, homemade spinach pie, and fresh butternut squash.
New England's Best Apple Pie
With a dollop of fresh whipped cream
Note: During Lent a fish entree may be pre-ordered. Advance notice required for dietary needs.
---
2016-2017 Dates
To find out available dates, please open the drop down menu
 labeled 'Select a Date and Time:' on the online order form below.
*As dates become filled and sold out they will be removed from the schedule.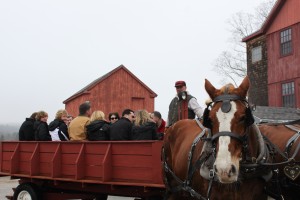 Fireplace Feast Schedule:
Friday Feasts: Arrive 6:30pm – Feast begins at 8:00pm
Saturday Feasts: Arrive at 5:30pm – Feast begins at 7:00pm
Sunday Feasts: Arrive at 12:30pm – Feast begins at 2:00pm
$60 per adult, $25 per child (10 & under). Includes all taxes and gratuities. ALL TICKETS ARE NON-REFUNDABLE AND NON-TRANSFERABLE.
The Fireplace Feast is an advanced ticket only dining event.
To attend our Fireplace Feast, order tickets online using the form below,
or call 508-867-2345. 

Want to ring in the new year with a special Fireplace Feast?
Join us on December 31st as we welcome in 2017!
Enjoy hors d'oeuvres by the fire. Take a horse drawn sleigh/wagon ride through the back fields then chase the chill away and relax with some hot, mulled cider or wine.  Help make apple pie using an antique apple peeler and corer, or make seafood chowder in an antique iron cauldron right in the fieldstone fireplace. Then sit back for the main feast of seafood chowder, your choice of 1700 Fireplace Prime Rib or Fresh Broiled Atlantic Salmon, bowls of fresh butternut squash, spinach pie and oven roasted potatoes, and make sure to save some room for the scrumptious deep dish apple pie with fresh whipped cream. We'll toast to the New Year and then go downstairs so you can dance right through the midnight hour!  Wear a party hat and use those noisemakers!  It's a great way to ring in the New Year! Click here for more details.
---
Check out the special Fireplace Feast Packages offered by these local area hotels: