Join us at Salem Cross Inn for a fun workshop with friends!
Seasonal comfort food combined with holiday crafting.

Dinner includes Salem Cross Inn's famous bar cheese and crackers, chicken pot pie with buttermilk biscuit, harvest squash, duchess potato, seasonal dessert, and choice of tea or coffee.
After a great meal, Barry Mongeon will share his talent for holiday preparations and will give step-by-step instructions on how to create your take-home holiday design. Please keep in mind the images above may vary slightly from your finished product, due to flowers & supplies available, and your own unique spin on the design.
Cost: $50.00 – includes meal, craft supplies*, and all taxes and gratuities. ALL TICKETS ARE NON-REFUNDABLE AND NON-TRANSFERABLE (*Please bring a pair of craft scissors and wire cutters.)
All of our Deck the Hall Events have been sold out! 
Due to their popularity they will be back again next year, so make sure to reserve your spot early.


To attend Deck The Hall,order tickets online using the appropriate form below, or call 508-867-2345. 
Click here for your printable brochure.
November 25, 2014
Autumn Cornucopia
6:00pm
December 2 & 11, 2014
Christmas Wreath
6:00pm
December 16, 2014
Holiday Centerpiece
6:00pm
---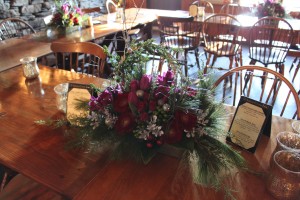 Check out the special Christmas Memories Packages offered by these local area hotels: