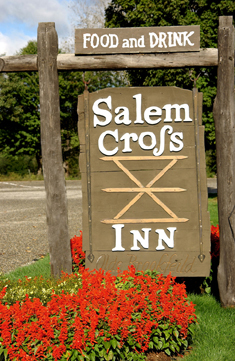 (Please note that our hours change depending on the time of year, and are different for the office, main dining area, and Hexmark Tavern. Scroll down for each.)
Office Hours:
Tuesday to Friday – 10:00am to 4:00pm
Main Dining Room Hours:
Open Full Schedule
APRIL 2 – DECEMBER 30
Tuesday to Friday (Lunch & Dinner) – 11:30am to 9:00pm
Saturday (Dinner) – 5:00pm to 9:00pm
Sunday (Dinner) – 12 Noon to 8:00pm
WE ARE NOT OPEN ON CHRISTMAS EVE, CHRISTMAS DAY OR NEW YEAR'S DAY, AND ON NEW YEAR'S EVE WE OPEN AT 5:00, BECAUSE WE FEEL IT IS IMPORTANT THAT OUR SALEM CROSS INN TEAM IS ABLE TO SPEND TIME WITH THEIR FAMILIES.
JANUARY
Friday (Lunch & Dinner) – 11:30am to 9:00pm
Saturday (Dinner) – 5:00pm to 9:00pm
Sunday (Dinner) – 12 Noon to 8:00pm
FEBRUARY through MARCH*
Thursday & Friday (Lunch & Dinner) –
11:30am to 9:00pm
Saturday (Dinner) – 5:00pm to 9:00pm
Sunday (Dinner) – 12 Noon to 8:00pm
*Closed for a one-week vacation, March 23 – April 1, 2015 On Sunday, March 22, the kitchen will be closing at 3:00
Hexmark Tavern Serving Hours for the Year
Open Full Schedule
APRIL 2 – DECEMBER 30
Tuesday to Friday (Dinner) – 4:00pm to 9:00pm
Live Entertainment Friday nights starts at 7:00pm
JANUARY
Friday (Dinner) – 4:00pm to 9:00pm
FEBRUARY through MARCH*
Thursday & Friday (Dinner) – 4:00pm to 9:00pm
*Closed for a one-week vacation, March 23 – April 1, 2015