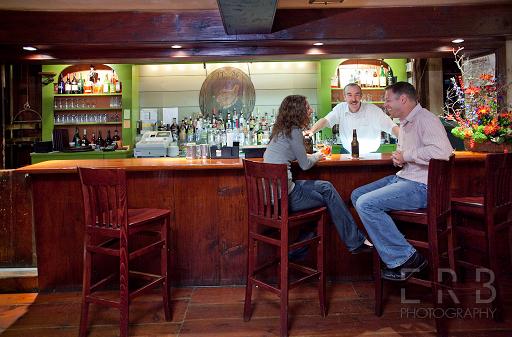 Back in the 80's, Ginny and Martha Salem thought there was a place for a more casual setting at the Salem Cross Inn.  The two of them dreamed up the idea of "The Sand-witch Bar" and drafted Heather into helping with this summertime project.  Well, they were young, and they loved their precious sun, so even though their endeavor was showing promise, they came to the conclusion that having a tan was higher on their list of priorities than having a tavern.  So, a "Gone Fishing" sign was hung and the three of them enjoyed the last couple weeks of their coveted summer.
Time passed, and still the need for a more casual, laid back atmosphere was rattling around.  Bo, Heather, and Martha were determined to create a tavern that was a welcoming, relaxing place to grab a bite, have a drink, and hang out.  And so, the Hexmark Tavern was opened.  An open house was held in the summer of 2003 to spread the word.  This led to what we now have.
The Hexmark Tavern is a great tavern in Massachusetts to meet friends, eat great food and drink fantastic drinks.  In the warmer months, you have a choice of  indoor or outdoor seating.  The drink menu at our tavern is very creative and refreshing.  Lobsters and steamers are brought in fresh from Gloucester for those warm summer nights.  In the fall and winter at the tavern you can warm yourself by the fire, enjoy the fireplace stew of the day, drink toasty warm coffee or hot chocolate drinks, and order from our menu of many satisfying choices.
---
Outdoor Summer Grilling
Starting Wednesday, July 6 Hexmark Tavern will be grilling outdoors through the summer on Wednesday and Thursday nights–weather permitting.
Click here to view this week's grilling menu (July 6&7)
---
Live musical entertainment, Friday evenings starting at 7pm.
The Salem Cross Inn's family tradition of welcoming people with open arms and making sure they are comfortable is alive and well.  Come visit the Hexmark Tavern and see for yourself!
Click here to learn more about our entertainers.
Reservations are appreciated for parties of 5 or more.
---